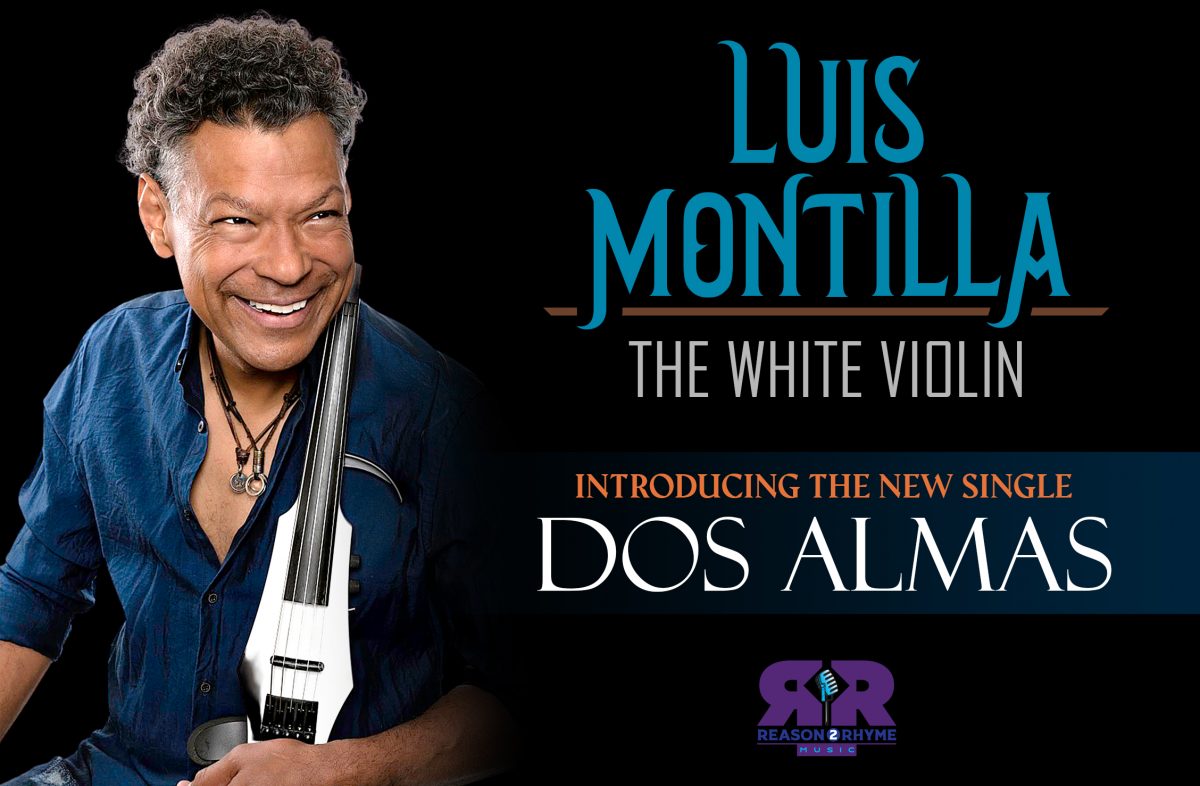 Luis Montilla – The White Violin – Releases Debut Single "Dos Almas."
by Scott Alexander
"Dos Almas" is the first single released under the Reason to Rhyme Music record label from Venezuelan virtuoso violinist Luis Montilla, "The White Violin."  It was released on June 1, 2021.
"Dos Almas," which translates to "Two Souls," is a love song wrapped in a Latin beat with strong jazz fusion influences.  It tells the story of a mermaid staring out the window, dreaming about eternal love.  She spies the man of her dreams, and they fall in love before she returns to the sea.
The song comes from Montilla's deep-seated spirit of old-fashioned romance.
"I picked this song first because I am a romantic guy," he said.  "I don't know if it sounds good, cheesy or romantic, but I am in love with my woman, so I made a song about the woman of my dreams.  A romantic love.  Love that can change your life."
That spirit of romance is something Montilla hopes to pass along to a younger generation through his song.
"My father and my mom got together for life, until my father passed away.  That is the love I am talking about.  It's a romantic notion of love from the '40s and '50s.  It's heart to heart.  When your wife is sick, you feel sick too.  I want this new generation to understand where I am coming from.  It's an old-fashioned romance in this era of cell phones and internet."
Montilla said the song is about connections that go far beyond romantic love, including his connection with vocalist Jasmiry Romaldini, for whom he has had a life-long, soul-mate friendship with, connecting with her in his youth in Venezuela.
Montilla also connected with several other friends to record the new album, including pianist Ali Romero, drummer Jeff Sipe (Aquarium Rescue Unit), percussionist Luisito Quintero (Chick Corea) and bassist Zack Page.  He is grateful that those connections also include Bryan Wagstaff, Executive Producer at Reason 2 Rhyme Music.
"I was blessed to have met Luis Montilla in 2020 at the SXSW event in Austin," Wagstaff said.  "Reason to Rhyme Music was in the process of producing an incredible showcase of musicians from across the globe.  Unfortunately, the pandemic jeopardized our opportunity to showcase these amazing musicians. Montilla and I ended up quarantining  together for 10 days, and we formed a special bond.  During our quarantine together, I played piano with him.  When I heard him play the violin, I said to myself, 'I need to sign this guy.'  I didn't know how he would respond.  Thankfully, he said yes."
Montilla is grateful for the opportunity.
"I am very excited for this single release," Montilla said.  "It's just the beginning for the album.  Bryan gave me the opportunity to record with all of my friends.  It's an all-star team.  We have some of the best musicians in the world playing on this record."
Wagstaff said the process of recording and producing the album illustrated how music has the power to break down any barriers.
"We embarked on an incredible journey, along with my partner Chris Wright, to produce the amazing songs Montilla has always wanted to share with the world," Wagstaff said. "We traveled to Echo Mountain Recording Studios in Asheville with a potpourri of incredible talent.  The sessions were both in Spanish and English, with me translating Montilla's direction (from Spanish to English) to Jeff and Zack in English.  It was an incredible experience, and I think a rare feat to accomplish.  To bring people together from all walks of life to a session that transcends language while at the same time bringing together the collaboration of prodigious musical talent – some of the best talent in the world, was quite remarkable to witness."
Montilla hopes anyone who hears this song will feel that same connection that transcends nationalities and languages.
"It's magic," he said. "It's hard to explain.  I have the feeling something very big is going to happen.  Even in a different language, I hope they hear the music and start dancing."
Bassist Zack Page